Welcome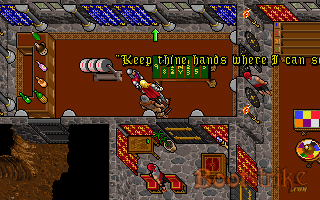 This section is all about Ultima VII: The Black Gate, aka Ultima 7. This page was started on the 1st of September 1999. It's aim is to host every Ultima VII file and document out there in Internet. Go straight to the Ultima 7 walkthroughs section!
So far the site boasts over 40 MB of binary downloads and over 3 MB of online text and HTML documents.
NEWS just in! EA games including the Ultima Series will now be available for download @ GOG!
What's New
6th March 2021
Here are some hacks to make Ultima VII more easy to use - Changes focus on improving usability - allowing the player to do things more easily or more directly - and on adding keyboard control to what was a largely mouse-driven game.
These modify the game files directly and adds many usability features. More info
15 Nov 2013 0130 GMT+8
Added a link to the Google Maps API rendering of the world map here
3rd June 2008 2130 GMT+8
Speed Run added! Thanks to thecybercat.
May 8 2008, 0400 GMT+8
Added Ultima VII: The Black Gate Annotated Maps and Quest Flow Chart in Hints section
Added cube generator walkthrough image by EarthShaker in Walkthroughs
13th Aug 2007 1300 GMT+8
Play the Ultima VII series in your PSP!

See the map of Ultima VII in your browser. Zoom In, Zoom Out with even a 3D view!
http://www.baymoon.com/%7Eauldane2/SerpentIsleMap.html
2nd May 2006 1430 GMT+8
Run Ultima VII in its pure form under Windows XP/2000 using DOSBox! Check out the guide.
22nd Feb 2005 2230 GMT+8
Added Hacki's Ultima VII: The Black Gate Nitpicks. Interesting reading about the holes in the story line.
22 September 2002 1700 GMT+8
New walkthrough added to Ultima VII: The Black gate section by Andrew Simpkins.
November 9 2001 1500 GMT+8
Redesign of the website
Reformatting of Ganesh's Typed Manual. Sorry, it was done when I was a few years younger, so the formatting ain't nice. Now at least it should be presentable.
A work in progress: Bugs in Ultima VII .. .find some information here!
A new way to run Ultima7 under windows has been discovered! Head straight here!
September 13 2001 2100 GMT+8
Updated Dan Simpson's Ultima VII Part I Walkthrough.