Tutorial on How to Clean Install Windows Vista or over Windows Vista / XP / 2000 / ME / 98 (With Screen Shots)
Version 0.50
This article shows how to install Windows Vista with everything in your hard drive wiped. This means that documents, e-mails, photos, shortcuts, programs, etc will ALL be deleted and erased!
DISCLAIMER: Proceed at your own risk! The information here is accurate to the best of my knowledge. I will not be held responsible if this document causes your computer to explode or burst into flames. In real serious terms, if any corruption of data, hardware damage or any other kind of damage/losses/etc. arises from the use of this document, I will not be responsible for it. If you don't like this, please don't read any further.


Is this document intended for you?
You want to install Windows Vista with EVERYTHING in your computer erased
You have made a backup of all important stuff in your hard drive to an EXTERNAL media (i.e. external hard drive, DVD discs, etc)
You have done your necessary homework to ensure that your hardware is compatible with Vista
Step By Step Guided Installation with Screen Shots
| | |
| --- | --- |
| Insert the Windows Vista Installation CD/DVD and restart your PC. Look for the prompt. When it appears, hit the ENTER key on your keyboard. | |
| | |
| --- | --- |
| | Windows Vista will start loading files from the CD/DVD... |
| | |
| --- | --- |
| ... and continue loading ... | |
| | |
| --- | --- |
| | .. and finally loaded ...! Select your appropriate language, time and currency format. For most of us, the defaults already suffice. Click Next. |
| | |
| --- | --- |
| Click Install Now... | |
| | |
| --- | --- |
| | Vista Setup checks and requests for a Product Key. Key it in and click Next |
| | |
| --- | --- |
| Legal stuff.. place a checkmark at the appropriate place and click Next | |
| | |
| --- | --- |
| | You don't have any choice here. Click Custom (advanced) |
Here's where things get a bit technical.

Click Drive options (advanced)
For each entry in the list, Delete all of them (Unallocated space cannot be deleted)


WARNING:

This step will ERASE all data. MAKE SURE YOU BACKED UP YOUR IMPORTANT FILES!


WARNING 2:

If there is any special partition with a name that corresponds to your brand (e.g. Dell, HP) of your PC, don't delete it as it is used for factory restoration purpose.
There should only be one left now with the label "Unallocated Space"
OPTIONAL: This is your opportunity to create an additional partition if you wish by highlighting the line and clicking on New. You will need to create the Vista partition first, and then your storage partition
| | |
| --- | --- |
| | With only one partition left, select it and click Next to proceed |
That's it - Vista has all the information it needs. It will now take onto auto pilot mode :)

You are able to see the progress and the current activity is highlighted in bold.

During this process, your system will restart automatically a number of times.
| | |
| --- | --- |
| | Finally, completing installation... |
... and it is done!

Type in your preferred username, spaces and capital letters are allowed.
Type in a password if you want additional protection.
Select a picture to represent your account at the bottom.
Click Next

You can always change your password and picture later on, but not your username. So type in wisely as it will be shown in the Welcome screen and Start menu.
Type a name for your computer. This is the name that shows when you visit the Network Neighborhood. If unsure, just leave it at the default. You can change this later if you wish.
Select a desktop wallpaper at the bottom.
Click Next
Here you setup Automatic Updates

We strongly recommend you to click "Use recommended settings"
Here you adjust your time zone so that the correct time and daylight saving is used.

From the list under Time zone, select your correct GMT (Greenwich Mean Time) time
Click the correct Date and Time. They should need no fixing as the defaults should be correct
Click Next
Thank you for installing Windows Vista!

Click Start
Windows will start calculating the Performance Index. This will take some time
It will go on to prepare your desktop. This is only a one time run.
Your system may restart once it is done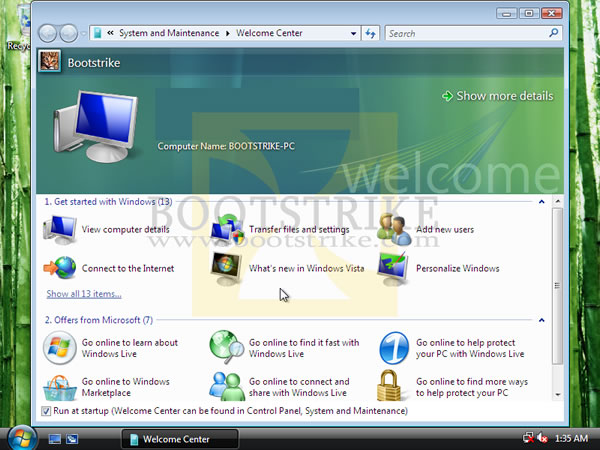 It's Not Over Yet!
Install Chipset, Video, Sound drivers to utilize the full performance level of your PC. It should have come in a separate CD with your system.
Install Anti-Virus and Anti-Spyware applications. A firewall is good, but not required - as XP SP2 already comes with one.
Visit WindowsUpdate.Com and download the latest patches
Revisions
July 27 2008 - v0.5

First Release to the public in Bootstrike.Com
Last Updated 27th June 2008.
Errors? Omissions? Need Help? Know something? Post your queries in the Windows Vista Discussion Forum.
This document is Copyright(©) 2001-2008 by G.Ganesh.