Codemasters Race Driver: Grid
Version 0.51
| About | Screen Shots | Download | Common Problems |
Update: The multiplayer servers for this game is no longer available. The official one that is. Unofficial emulators are available
Own a powerful system? Looking for a more lenient contender than Crysis? Or just want a racing game that maximizes your latest 3D graphics card?
This game will put it to the test. Bask in the beautiful visuals and race away!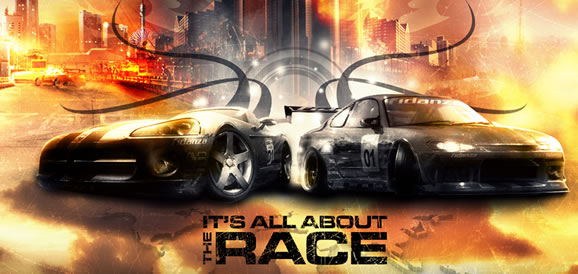 And it is free!
The catch? It is the demo version.
What, a DEMO? Are you kidding??
Don't get dissuaded by that word. It is a demo, however no game out there has so many features for a demo.

Three events - offers 3 events to compete in: eBay Motors Muscle Cup, Advan International Trophy and the Euro Touring Car Series.
Two game modes - Racing and Drifting
Unlimited online play!
No trial time limits! No consistent nag screens.

And the rest of the standard features come with it FREE!

Up to 12 players in one multi player session
Quick match feature
Supports 3D audio
Shader Model 3.0
Visuals are very similar to the full game (although the demo says otherwise)
Screen Shots
Shift+Click an image to open the high resolution version.







System Requirements
Basically, if your system is less than 2 years old, you should be able to play this game!

Minimum Specifications

Operating System: Windows XP/Vista. (If running Windows Vista, SP1 is recommended)

DirectX: DirectX 9.0c

Processor: Pentium 4 @ 3.0GHz or Athlon 64 3000+ (Intel Core 2 Duo @ 2.66Ghz or Athlon X2 3800+ recommended)

RAM: 1GB (2GB recommended)

Graphics: GeForce 6800 / Radeon X1300 or above (GeForce 8800 or Radeon X1950 recommended)

Sound: DirectX Compatible Sound Card (Creative Sound Blaster X-Fi Sound Card recommended). Not compatible with all integrated sound/graphics solutions (inc.Laptops)

Hard Disk: 12.5 GB Hard Drive Space

Controller: Almost any PC controller (Microsoft X360 controller or Logitech G25 or Logitech MOMO or Logitech Driving Force Pro or Thrustmaster RGT Force Feedback Pro recommended)
Download for FREE
It's FREE.

Download Mirrors (grid_demo.zip version 1.1 incorporating latest patch changes, 893 MB, 937,281,756 bytes)
Common Problems
1)
The game is very slow?
Try lowering the video settings. Lower the resolution, lower the anti-alising and visual effects.
2)

The game stutters, slows down every once in a while?
Known bug. Some workarounds were to assign only one core to the GRID.EXE process, check that you don't have any temperature monitoring software running, check that no throttling software is running (e.g. ASUS EPU AI Suite) and to downgrade to the lower version of GRID.
3)

When I try to join a session, it says "Session Error - Unable to connect to session"?
Most likely, the session was filled up with players before you clicked on the join button.

Official Website
You can visit the official website here.
Last Updated 31st July 2008.
Errors? Omissions? Need Help? Know something? Post your queries in the Discussion Forum.
This document is Copyright(©) 2001-2008 by G.Ganesh. Visit Bootstrike.Com (http://bootstrike.com).