IRiver IMP-400 Review
Version 0.73
This is my personal review(pros and cons) of this fantastic player. Those who are looking to buy it may be disappointed in some areas of this player.
Design
The case is the slimmest I have come across so far and so is the look of the player. The surface has a nice rusty feel while the shiny mirror on the circumference is smooth to touch.
The menu system is excellent providing lots of quick access functions into General, Control, User EQ and 3 others.
Usability
IMP-400 has so many features that it required a 6 sections in the menu. Strangely, the socket to connect your earphone on the remote is in such a position that it overlaps the wire from the player.
Features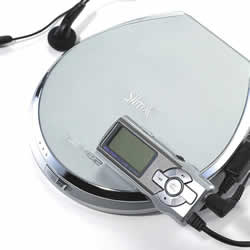 The official webpage shows some major features, but there is more to it than meets the eye. So far in my two months of use, the player has never skipped, and this is with the anti-shock mechanism disabled. I did not bother with the earphones that came with the player as they usually do not sound good compared to the Sony EX70 ear bud earphone. However, even at max volume, the player still does not play to satisfaction when I am at a noisy area. My AIWA discman performs better here, still the volume is adequate at the standard noise levels.
While playing, the remote displays the label of the CD on the first row and the title/artist/album of the song, scrolling if needed (except for the first row). The second row display is configurable, you can set it to display Artist - Title, or Title - Artist and various other combinations. Volume can be increased/decreased easily and the track can be paused/played/forward/rewind/next/prev all by just one click.
FM radio is a welcome addition. However, the reception becomes weak (using remote) if the player is in the bag with the remote outside. But if you lengthen the remote wire from the player as long as possible, reception improves. A weird thing is that there is no way to get to the menu in Radio mode, you have to switch to CD mode, wait for the CD to be loaded and then you get to the menu.
Standard Expectations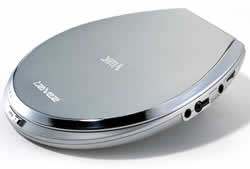 The batteries are rechargeable, you're provided with two Gumstick batteries when you purchase this player. But, when charging, you cannot use the player. Charging takes around six hours and there is a feature that allows you to fully discharge the battery and charge to lengthen the life of the battery.
The player also functions without the remote, but with many limitations. There is just one dialler, you press and hold, and it switches on. Press and hold and it switches between FM and Radio mode.
The volume can be changed only at FM radio mode. While playing CD, track can be forward/rewind/prev/next all within that roller. But when it comes to switching off the player, Iriver Help Support suggests that I open the lid to switch it off - Weird way if you ask me.
There's the normal remote connection/earphone jack, line out jack and DC In jack for recharging and playing.
There's also a jack for connecting an external battery pack to lengthen the power to 23 hours.
The Other Side
Other than the quirks mentioned above, other problems I have found that ANY sound enhancement that you set in CD mode (bass, treble, balance) will not be applied in FM radio which is something I expected to work.
Up till early 2004 ever since the player was released, iRiver has been releasing firmware updates, but none of them have incorporated any new codes. Now iRiver has released a beta OGG firmware for many of its player models. I have yet to test it but the forums have been supportive.
UPDATE January 18 2005
It is worth noting that the mp3 player started displaying the famous "NO DISC" messages after about 1.5 years of moderate usage. Charges ran up to US$50, which is quite ok if you ask me - but I later discovered that the Hold switch on the player was no longer working. Well, maybe just my luck.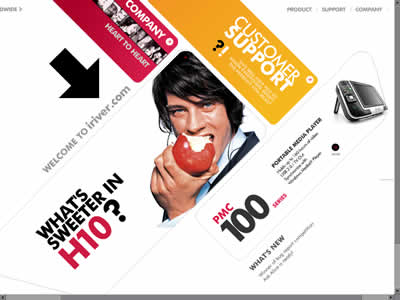 It's a tilted world!
On another note, iRiver's official site is getting worse with its redesigns. They demand that you use 1024 x 768 to view their site. They want you to tilt your head to read the text. And Flash must be enabled to navigate. What happened to the good old site? Luckily, the user community and all product information is still there. It is going to be hell for those who disabled flash and those using 800 x 600 resolution.
Rating
8.5

out of 10

Pros:

Mp3/Wma/Asf/OGG(new!)
Firmware upgrades
Customisation
Sleep Mode (works in Radio mode too!)
Menu Design
Player Design
FM Radio
Bass Response

Cons:

Low Volume
Pricey
Radio Mode

No Menu Access (!!)
No Bass/Treble/Balance changes in radio mode
Specs (From official site)
No.of Channels
STEREO(L+R)
Frequency Range
20Hz - 20KHz
Headphone output
12mW(L) + 12mW(R) : 16 Ω at Max. Volume
6mW(L)+6mW(Ω):32 Ω at Max. Volume
Lineout level
0.57V rms : (47k Ω )Max. Volume
S/N Ratio
90dB (CD-DA),90dB(MP3 CD);A Weighted
Frequency Characteristics
± 2dB (Lineout )
Frequency Range
87.5MHz - 108MHz
Headphone output
12mW(L) + 12mW(R) : 16 Ω at Max. Volume
6mW(L)+6mW(R):32 Ω at Max. Volume
Lineout Level
0.45V rms(47k ) Max. Volume
S/N Ratio
57dB
Receiver Type
Headphone/Earphone Cord Antenna
CD Type
CD-DA, CD-Text (8Cm/12Cm)
CD-ROM Mode 1, Mode 2 Form 1
Enhanced CD, CD-Plus
CD-R/RW Readability
Packet-Write, ISO9660, Joliet, Romeo,Multi-Session
File Type
MPEG 1/2/2.5 Layer 3, WMA, ASF, OGG(NEW)
Bit Rate
Supports 8Kbps ~ 320Kbps
Tag
ID3 V1 Tag, ID3 V2 2.0, ID3 V2 3.0
AC Adapter
DC 4.5V
Rechargeable battery
Stick type Ni-MH battery 2 EA
Dimension
Approx. 130.5(W) X 140(L) X 16.7(H)mm
Weight
Approx. 193g (Excluding Batteries)
Operational Temperature
0 ° C ~ 40 ° C
Official Site
For more information on IMP-400, visit the official website.
This document is Copyright(©) 2001-2008 by G.Ganesh. Visit Bootstrike.Com (http://bootstrike.com).