| Introduction | Common Lengths | Conversion Process | Rates |
Introduction

In terms of video quality, Video8, VHS/VHS-C, and Beta-II offered similar performance in their "standard play" modes; all were rated at approximately 240 horizontal lines, depending on speed, quality of tape, and other factors. In terms of audio, Video8 generally outperformed its older rivals.
Standard VHS and Beta audio was recorded along a narrow linear track at the edge of the tape, where it was vulnerable to damage. Coupled with the slow horizontal tape speed, the sound was comparable with that of a low-quality audio cassette.
By contrast, all Video8 machines used "audio frequency modulation" (AFM) to record sound along the same helical tape path as that of the video signal. This meant that Video8's standard audio was of a far higher quality than that of its rivals, although linear audio did have the advantage that (unlike either AFM system) it could be re-recorded without disturbing the video. Betamax and VHS Hi-Fi rarely appeared on camcorders, except on the high-end models.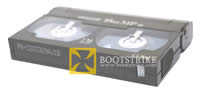 Video8 had one major advantage over the full-size competition. Thanks to their compact-form factor, Video8 camcorders were small enough to hold in the palm of the user's hand. Such a feat was impossible with Betamax and VHS camcorders, which operated best on sturdy tripods or strong shoulders.
Video8 also had an advantage in terms of time, because although VHS-C offered the same "palmcorder" size as Video8, the VHS-C tapes only held 40 minutes of tape (SP). Thus, Video8's 120-minute capacity served well for most users. Both machines included longer playing modes at 120 and 240 minutes, respectively, but at the cost of reduced-quality images of only 220 lines resolution.
Although it was possible to transfer tapes (using the VCR to re-record the source video as it was played back by the camcorder), this inevitably led to degradation of the analog signal. Ultimately, Video8's main rival in the camcorder market turned out to be VHS-C, with neither dominating the market completely. However, both formats (along with their improved descendants, Hi8 and S-VHS-C) were nevertheless very successful. Collectively, they dominated the camcorder market for almost two decades before they were eventually crowded out by digital formats, such as MiniDV and 8cm DVD.
8 mm video format. (2009, November 30). In Wikipedia, The Free Encyclopedia. Retrieved 04:23, December 8, 2009, from http://en.wikipedia.org/w/index.php?title=8_mm_video_format&oldid=328810973
Common Tape Lengths
1.5 hour SP mode
2 hour LP mode
Conversion Process
We ensure the best quality in every single process of the conversion. All conversions are done on professional high end players with real time full frame time base correction (TBC) and digital noise reduction (DNR). Video and audio signals are transmitted on thick cables with gold plated connectors. No power source is placed near the players. All these are to reduce the interferences into the electronic signals so as to capture the signal in its original form as best as possible.
Encoding of video to formats such as MPEG is based on the AVI captured file. The encoding is done using production quality conversion settings, which requires much more CPU processing power but gives a slightly better end result. We utilize quad core processor workstations to process your videos.
With all these, we always ensure audio and video synchronization is maintained throughout the whole process.
If we notice any major faults in the video, we will ask you before proceeding. At this point, you will not be charged a single cent if you decide not to continue with the conversion. Common major faults we've encountered are
Badly damaged taped (we do not convert these)
Snapping / tearing of tape
Rates
For conversion to VCD
$15
1
$3
$18
$30
2
$6
$36
$45
3
$9
$54
For conversion to DVD (includes 5 minute chapter marks)
$20
1
$8
$28
$40
1
$8
$48
$60
2
$16
$76
For conversion to other digital formats such as AVI, MPEG1, MPEG2, WMV and FLV
AVI
$20
MPEG1
$20
MPEG2
$20
FLV
$40
WMV
$20
You can also try our calculator. Or contact us for a quote.