| Introduction | Common Lengths | Conversion Process | Rates |
Introduction

DV is a digital video format created by Sony, JVC, Panasonic and other video camera producers, and launched in 1995. Its smaller tape form factor MiniDV has since become a standard for home and semi-professional video production; it is sometimes used for professional purposes as well, such as filmmaking and electronic news gathering (ENG).
The DV specification (originally known as the Blue Book, current official name IEC 61834) defines both the codec and the tape format. Features include intraframe compression for uncomplicated editing and good video quality, especially compared to earlier consumer analog formats such as Video8, Hi8 and VHS-C.
Relatively low chroma resolution is a reason why DV is sometimes avoided in chroma keying applications, though advances in chroma keying techniques and software made producing quality keys from DV material possible. The sampling raster of the baseline DV video is the same as that of the ITU-R Rec.601 with 720 pixels per line for both 4:3 and 16:9 frame aspect ratios, which results in different pixel aspect ratios for fullscreen and widescreen video. The 60 Hz system has 480 lines, while the 50 Hz system has 576 lines in a frame.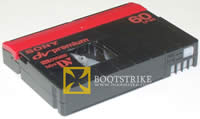 The video, the corresponding audio and metadata are packaged into 80-byte Digital Interface Format (DIF) blocks which are multiplexed in a 150-block sequence. DIF blocks are the basic units of DV streams and can be stored as files in raw form or wrapped in such file formats as AVI, QuickTime and MXF. One video frame is formed from either 10 or 12 such sequences, depending on scanning rate, which results in the data rate of about 25 Mbit/s.
When written to tape, each sequence correspond to one complete track. For audio, DV allows either two PCM channels (usually stereo) at 16-bit resolution and 48 kHz sampling rate, or four channels at 12-bit resolution and 32 kHz sampling rate.
DV was originally designed for recording onto magnetic tape. Tape is enclosed into cassettes of four different sizes: small, medium, large and extra-large. All DV cassettes use tape that is ¼ inch (6.35 mm) wide. Small cassettes, also known as S-size or MiniDV cassettes, had been intended for amateur use, but have become accepted in professional productions as well. MiniDV cassettes are used for recording baseline DV, DVCAM as well as HDV.
HDV (High Definition Video) is a tape recording format for recording and playback of high-definition video on a DV cassette tape. The format was originally developed by JVC and was supported by Sony, Canon and Sharp. The four companies formed the HDV consortium in September 2003. Conceived as an affordable high definition format, HDV quickly caught on with many professional users due to its low cost, portability and image quality acceptable for many professional productions.
DV. (2009, December 6). In Wikipedia, The Free Encyclopedia. Retrieved 05:53, December 8, 2009, from http://en.wikipedia.org/w/index.php?title=DV&oldid=330113029
Common Tape Lengths
1 hour SP / HDV mode
1.5 hour LP mode
Conversion Process
We ensure the best quality in every single process of the conversion. All conversions are done on professional high end players with 1:1 digital transfer. Video and audio signals are transmitted on thick cables with gold plated connectors. No power source is placed near the players. All these are to reduce the interferences into the electronic signals so as to capture the signal in its original form as best as possible.
Unlike analog conversions, no video quality is lost during the conversion to AVI as MiniDV records the video and audio data digitally. We transfer the video entirely digitally as opposed to capturing via the analogue out port. This preserves the original data 100% due to the digital nature of the transfer.
Encoding of video to formats such as MPEG is based on the AVI captured file. The encoding is done using production quality conversion settings, which requires much more CPU processing power but gives a slightly better end result. We utilize quad core processor workstations to process your videos.
With all these, we always ensure audio and video synchronization is maintained throughout the whole process.
If we notice any major faults in the video, we will ask you before proceeding. At this point, you will not be charged a single cent if you decide not to continue with the conversion. Common major faults we've encountered are
Badly damaged taped (we do not convert these)
Snapping / tearing of tape
Rates
For conversion to VCD
$15
1
$3
$18
$30
2
$6
$36
$45
3
$9
$54
For conversion to DVD (includes 5 minute chapter marks)
$20
1
$8
$28
$40
1
$8
$48
$60
2
$16
$76
For conversion to other digital formats such as AVI, MPEG1, MPEG2, WMV and FLV
AVI
$20
MPEG1
$20
MPEG2
$20
FLV
$40
WMV
$20
You can also try our calculator. Or contact us for a quote.