Pop-up Advertisement Windows coming from nowhere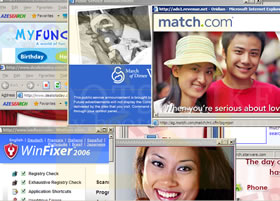 Spyware and Virus bubble alerts coming from the System Tray. Software such as System Antivirus 2008, Antivirus 2008 Pro, Ultimate Antivirus 2008, Doctor Antivirus 2008, Vista Antivirus 2008, Rapid Antivirus 2.7, UltimateFixer, XP Security Center, SpyFalcon, SpyAxe, SpySheriff, SpyQuake, BraveSentry, ErrorSafe, WinAntiSpyware 2006, SpywareLocked, SpyLocked, Spydawn, Spycrush, AntiVerminser, AntiVermins, AntiVermeans, Spysoldier, ContentEraser, Antivirus 2010, XP Antispyware 2009, PCVirusless, Spyware Guard 2008, Personal AntiSpy, Cleaner 2009, Antivirus XP 2008, Total Secure 2009 and Advanced Antivirus
Even More: Spyware Preventer, Andromeda Antivirus, Antivirus Doc, XPert Antivirus Enterprise, XPert Antivirus 2008, XPert Antivirus, MS Antivirus, XP-Guard, Antivir64, WinProtector, Internet Antivirus, Antispyware XP 2008, AntiSpyStorm 2008, PC Protection Center 2008, Power Antivirus 2009, Vitae Antivirus 2008, Antivirus Master, WinDefender 2008, Wista Antivirus, System Optimizer 2008, Virus Guard Plus, eAntivirusPro, VirusResponse Lab 2009 2.1, Antivirus Lab 2009, Micro Antivirus 2009, XP Protector 2009, Advanced Privacy Suite, Advanced Privacy Guard, Spy Devastator, Smart Antivirus 2009, Anti Malware Suite, Cleaner 2009, VirtualPCGuard, AntiMalware 2009, Antivirus Protection, Security Scanner 2008, eAntiVirus Pro, Spywareknight and/or Virusburster coming out from nowhere.
Messages such as "Dangerous files found! Your Privacy is at Risk!", "WARNING! Attack Detected!" appear.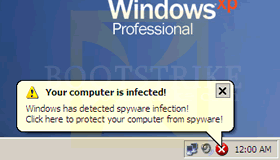 Red Cross in system tray. "Your Computer is infected" yellow triangle alerts with exclamation mark, "System Performance monitor", "System Alert". Flashing Green Man in wheelchair icon. Read more about common spyware symptoms. See a video of it in action.

Your desktop wallpaper is changed to a spyware infection warning message. Unable to change background in Display Properties Desktop due to grayed out and disabled fields.

Windows Messenger / MSN virus - "those ur pics" message infecting your PC to spread viruses to your contacts.

If you have one or more of the above symptoms, most likely your PC has spyware and adware installed. They can cause major performance hits and disrupt your normal usage. We can also install free antivirus and free antispyware software.