Nokia N-Gage Frequently Asked Questions (FAQ)
Version 1.378
Introduction
This FAQ is created for people to explore the vast possibilities of their Nokia N-Gage, a Symbian Series 60 gamepad designed phone. It is a consolidated list of many tips and tricks scattered around the web.
Nokia N-Series phone users - an alternative FAQ has been made. Please click Nokia N-Series FAQ.
Disclaimer
Proceed at your own risk! The information here is accurate to the best of my knowledge. I will not be held responsible if this document causes your computer to explode or burst into flames. In real serious terms, if any corruption of data, hardware damage or
any
other kind of damage/losses/etc. arises from the use of this document, I will not be responsible for it. If you don't like this, please don't read any further.
Nokia Phones that this FAQ also applies to
About 80% of the questions answered in this FAQ also apply to the other Nokia Series 60 Symbian phones such as Nokia 7610, Nokia 6620, Nokia 3620, Nokia 3660, Nokia 6600, Nokia 3600, Nokia N-Gage, Nokia 3650, Nokia 7650, Nokia 6682, Nokia 6680, Nokia 6681, Nokia 3230, Nokia 6670, Nokia 6260 and Nokia 6630.
However, keep in mind that this FAQ is meant to answer Nokia N-Gage queries mainly.
We Need Your Help
If you notice something written incorrectly or some instruction leading a false way, please inform me. We appreciate your help to help fellow N-gagers!
The N-Gage 2
UPDATE AUG 29 2007: Nokia announces new N series models that work on a new N-Gage platform. Read more here.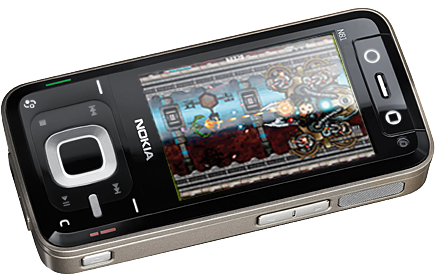 N81 - the two circles on the right are buttons
UPDATE FEB 11 2007: The N-Gage 2 platform will be used on Nokia's Series 60 phones. There will be no actual new N-Gage 2! More information here.
There will be NO new N-GAGE anytime soon due to low sales. More information here.
I have had many queries asking how the N-GAGE 2 looks like. To settle this once and for all, here is a picture of the N-Gage 2.
There is one fan made pic of the N-Gage 2 spreading around also.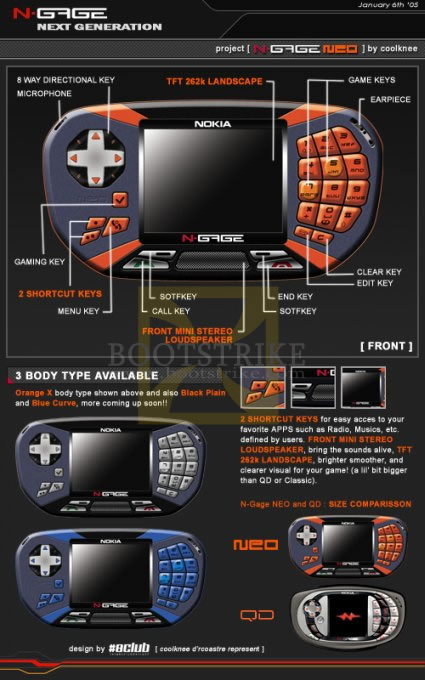 Well, it looks really feature heavy. For one, it has one big stereo speaker below the screen. And it is as compact as the QD. Too bad it's only a fan made image. And finally, the latest fake concept release: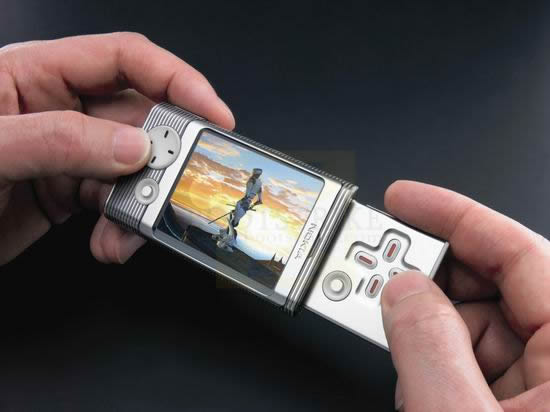 Thank You for your Help
HeavenLySigN (Posted in Forums) - for pointing out an alternate location for downloading Real Player for N-Gage QD users
Guest (Posted in Forums) - for pointing out that the N-Gage can be set to play AMR files for SMS Message tones.
Fiendishmortal - for pointing out that his 128MB TwinMos works perfectly on the N-Gage, a QD way to extend Classic's battery life and pointing out the mp3 player range error.
Links to N-Gage Accessories
Links to N-Gage Media
Nokia N-Gage Logos
Here are some high resolution N-Gage logos.
N-Gage 2 FAQs (Nokia N95, N81, N73) FAQs
The Number One FAQ
All of the answers below come direct from http://www.n-gage.com/support/faq.html
N-Gage Classic FAQs
To find an question/answer quickly, utilize your browser's Find function.
Errors? Omissions? Need Help? Know something? Please post/rant(!) about it in the Forums! (No Registration Required)
This document is Copyright(©) 2001-2008 by G.Ganesh. Visit Bootstrike.Com (http://bootstrike.com).
(Last Updated 4th Sept 2007)