LCD vs CRT Pros and Cons (A Quick Overview)
Version 0.61
This article provides a bird's eye view of the differences between CRT and LCD computer display technologies.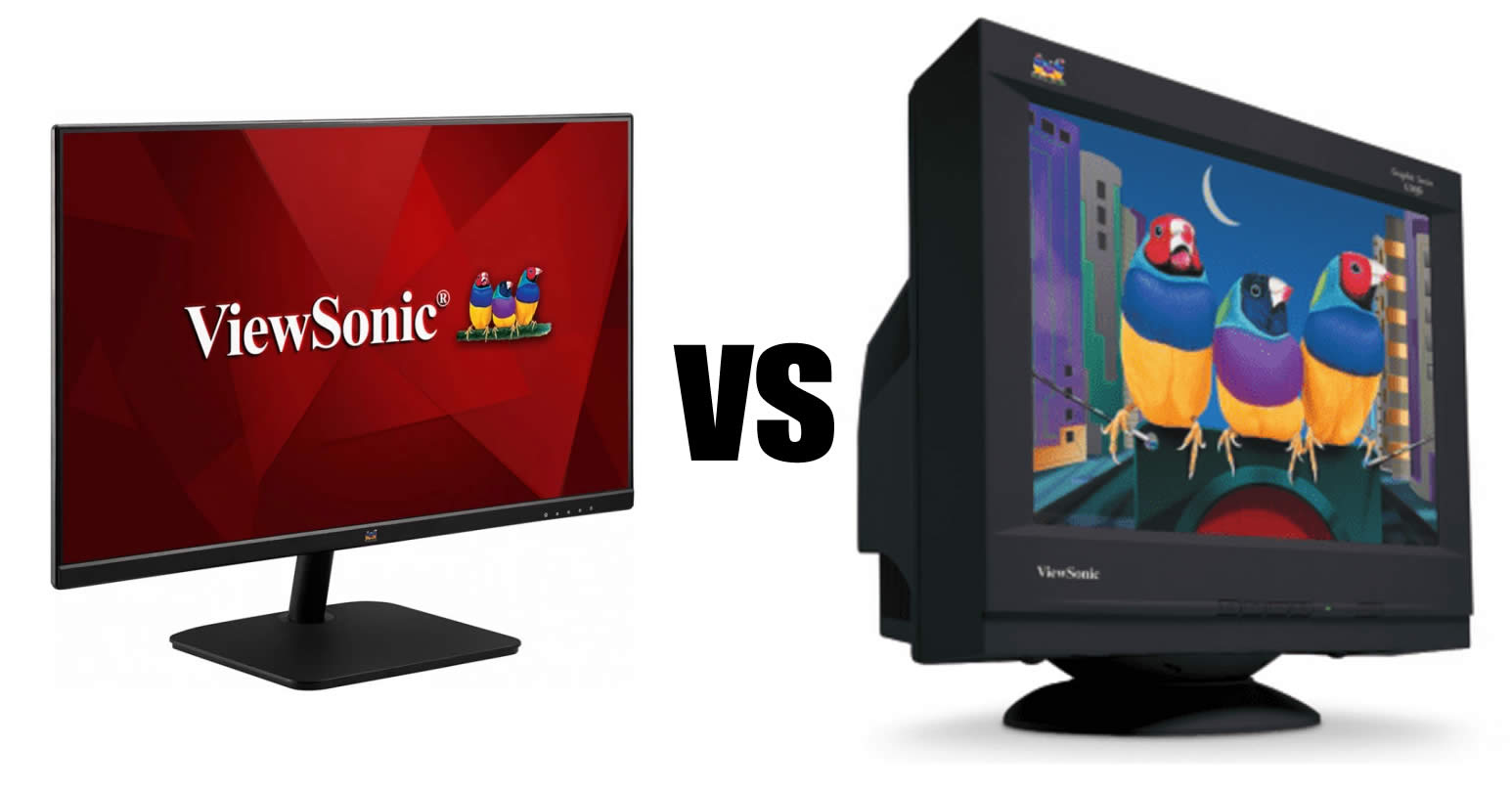 As of July 2021, CRT monitors are no longer in production. Even if you managed to get a used CRT monitor, there is a issue of connecting it to your system as newer PCs/notebooks come equipped only with HDMI and/or DisplayPort display ports. However, this can be worked around using HDMI to VGA adapters.
Major Advantages of LCD (Pros of LCD, Cons of CRT)
Bulky, the back size is proportionate to the size of the monitor
LCDs are much slimmer than their CRT counterparts. This slimness brings along a host of advantages such as space saving and portability.
The viewable area is about 0.9 - 1.1 inch smaller than the size specified on paper. This is due to the frame around the glass screen. So a 15" CRT would have only about 14" of viewable area.
17 inch LCD has 17 inch viewable. 24 inch LCD has about 23.8" viewable depending on model. Slightly less viewable as sizes go bigger, but not as severe as CRT.
Many manufacturers tout true flatness for their CRT monitors, but the sad truth is that most are fake. In reality it is only the outer glass that is flat, and not the actual screen. The true 100% perfect flat monitors are the aperture grille tubes made by Mitsubishi and Sony. Even then, these tubes have a disadvantage - a faint thin line or two (depending on size) running through the screen to stabilize the grill. Some people find this distracting, especially if you work on a white background (eg. documents) most of the time.
100% ninety degrees true perfect flat screen. There are curved models which are sold at higher prices. These models are said to provide greater immersion during gaming.
CRTs emit electromagnetic radiation. Much of it is filtered by the lead heavy glass front and the rest that reaches your eyes are mostly harmless. Even then, radiation still passes through the screen and some people regard them as hazardous.
LCDs emit a very small amount of radiation compared to CRTs. Health conscious consumers prefer them for this one reason.
CRTs weigh heavier, especially in the front (the display area) 17 inch CRT weighs around 16kg. 19 inch CRT weighs around 20kg.
LCDs are very light 17 inch LCD weighs around 2.6kg. 24 inch LCD weighs around 3kg.
Higher power usage, more than 400% compared to an LED backlight LCD of equivalent size. 17 inch CRT requires around 90 watts 19 inch CRT requires around 110 watts
Considerably lower power usage. 17 inch LCD requires around 20 watts 24 inch LED LCD requires around 22 watts
Glare is reduced by the use of special filters and treated glass.
Little or no glare depending on screen - Matte or glossy
Slightly less sharp images - but it is noticeable when comparing with LCDs
Sharp (when used at native display resolution)
Newer CRTs come with a Auto-Fit feature, but unfortunately it does not work well and requires micro adjustments to fill the screen
Hit the Auto button, and the display resizes to fit every pixel within its viewable area.
Suffers from burn-in problem. If displaying a same image for a prolonged period, it could be embedded in the display permanently.
LCDs are free from the burn-in issue that plagues CRTs and Plasma displays. However, they do occasionally have Image Persistence problems which can be fixed by switching off the LCD for an extended period of time.
A minimum of 72hz is required for a flicker free image depending on your eye.
LCDs do not "paint" their image. They provide a flicker free image every time. However, games and fast moving videos benefit from a higher refresh rate monitor by appearing smoother
Back gets noticeably warm after some time
Little
Major Advantages of CRT (Pros of CRT, Cons of LCD)
There is no such problem in CRTs as images are painted on the screen.
LCD panels are prone to dead or stuck pixels (or dots) on the screen due to their manufacturing process. However, stiff competition has made many manufacturers adopt zero dead pixel / stuck pixel warranties for their products.
CRTs already have a very fast response time hence this attribute does not apply to it.
This attribute is specially for LCDs as the lower the response rate is, the better the chance of avoiding "ghosting" effect.
Affordable and cheaper than LCDs due to their declining popularity. No prices as it is no longer being manufactured.
Prices have stabilized. 17 inch LCD costs around $150 24 inch LCD costs around $190
Can be used at any resolution up to the maximum supported. No image quality is lost at any resolution.
Must be used at its native resolution (maximum resolution) for best quality. Using the display at a lower resolution will result interpolation (scaling of the image), causing image quality loss. For this reason, gamers should avoid buying a monitor too high a resolution (e.g. 4K) as you will need more processing power (and more fan noise) to run the game in native resolution. As of 2021, we recommend 1920 x 1080 monitors when paired with recent GPUs/processors.
32 bit
Native 8-Bit max (consumer models)
180 viewing angle
About 170 degrees, depending on technology employed.
Ideal for any video including HD
Not ideal for full screen Standard Definition videos, but great for 1080p High Definition videos
True Black
Between Dark Gray to Gray
Summary
Pros of LCD vs Cons of CRT
Slim
Bulky
Full or very close
Usually 0.9 inches or less than actual size
True Flat
Fake Flat (unless aperture grille)
Little or none
More Radiation
Light about 2kg
Heavy about 16kg
Low Power requirement
400% or more power
Depends on screen, matte/glossy
Reduced Glare
Sharp, when used in native resolution
Slightly less sharp images
Perfect
Imperfect
None
Suffers from burn-in problem
Does not apply, except for gaming
Needs refresh rate (minimum 72hz)
Little
Back gets warm after some time
Pros of CRT vs Cons of LCD
No such problem
May have dead / stuck pixel
No issue with response rate
Depends on model
N/A (but no longer manufactured)
Normal
None
Has a native resolution
32 bit
6-Bit - 8-Bit, 16.7 million colors.
Wide viewing angle
Almost-wide viewing angle
Ideal for any video including HD
Not ideal for videos, unless HD
True Black
Between Dark Gray to Gray
Figures were compared using a typical 24 inch LED LCD (VA2432, previously Viewsonic VA926) and 19 inch CRT (Viewsonic G90F).
Our Recommendation
As CRT monitors are no longer manufactured, LCD monitors are the only way to go. Our recommendation is to go for a LED backlight LCD monitor that has a native resolution of 1920 x 1080.
If you are a gamer, you'll want a high response rate 144hz FreeSync compatible monitor but we still recommend 1920 x 1080 native resolution for smoother frame rate (FPS).
Currently I am using a curved 31.5 inch 1920 x 1080 G-Sync 144hz monitor - the Acer Predator Z321 Qbmiphzx. It was bought from Amazon UK but it is no longer available as of July 2021. My reason was that it was the biggest G-Sync monitor I could get for 1080p resolution as I did not want Windows to scale font sizes (but I still had to anyway). Before this I was using a 26" Sony LCD TV as a monitor for its 1360 x 768 resolution.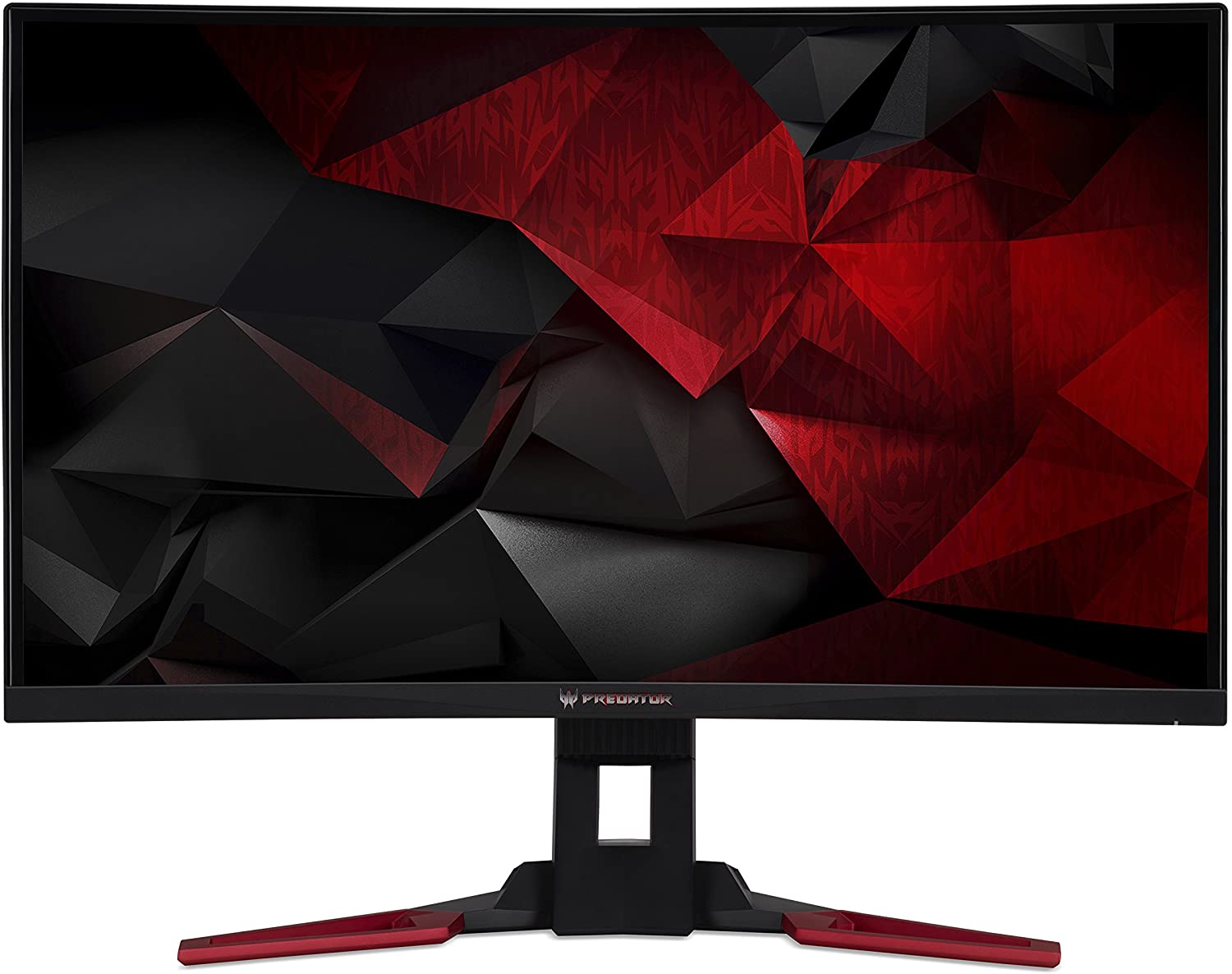 This document is Copyright(©) 2001-2021 by G.Ganesh. Visit Bootstrike.Com (http://bootstrike.com).
Last Updated 25 July 2021.