Pioneer DVR-530H-S/DVR-630H-S Review (Singapore Version)
Version 0.71
May Also Apply to DVR-340H-S, DVR-541H-S, DVR-550H-S, DVR-640H-S, DVR-650H-S, DVR-645H-S, DVR-745H-S (Notes)
| Review | Screen Shots | Buy It |
This is my personal review (the pros and cons, technical review) of this DVD/HDD recorder I bought in Singapore (read: SE Asian version). Those who are looking to buy it may be disappointed in some areas of this player while it stands out in other areas.
Please note that this review concentrates on the bad areas of this player - that everyone should be aware of.

Pioneer has made a name for itself in the audio/visual arena for producing quality and reliable products. It has not failed to do the same for this product, but at the cost of many restrictions to provide ultimate stability.
Features as highlighted in the official website
Maximum 227 hours Recording (HDD:MN1) (Yep, that's using the lowest quality settings) NOTE: This is from the 80GB version. Both are similar except for this attribute.
Maximum 100x copy from HDD to DVD-R (The other way round is 1x, if you are wondering)
Advanced Variable Bit Rate Recording for Optimum Picture Quality (but you cannot adjust resolution)
USB and i.LINK (DV) terminal (But there's a hidden filter to only show/play only JPG files in USB drives)
NOTE: Some countries' models don't have USB support.
Disc Backup (Dual-Layer to Single Layer? Nope. DVD to VCD? Nope)
1.5x Quick View
PAL/NTSC PureCinema Progressive Scan
Advanced Disc Navigator (What is advanced about it?)
HELP Function
Digital Jukebox (Don't ever expect it to be like Musicmatch Jukebox, it is less than 25% of it)

The Good Things
Powering up the unit, the Initial Setup Wizard automatically fired up. At this screen, the clock settings, PAL/NTSC selection, Power Saving Setup and TV channel setup among the various things.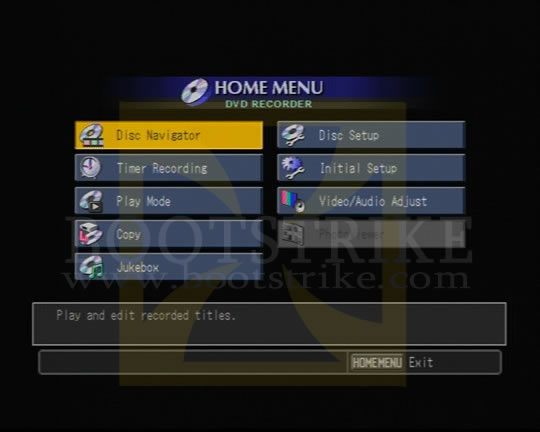 The Home Menu - where it leads to most of the recorder functions (Notice Pioneer is not mentioned anywhere)
The Timer Recording is amazing! Pioneer must have done extensive testing on its timer feature. It allows up to 32 slots! What's more - I set a timer to record daily from 2155hrs to 0130hrs and that counts as One Slot only! I was under the impression that it will consider it 31 slots, one for each day.

The Timer recording is good! Really good!
Did I mention that it was very user friendly? To instantly record a show, hit the REC button. To quick set a timer, simply hit the REC button again and it will step up in 30 min increments for up to 6 hours. When recording this way, you can hit the Pause button on the remote to temporarily pause recording - useful to cut out ads, although you can also cut out ads manually after recording.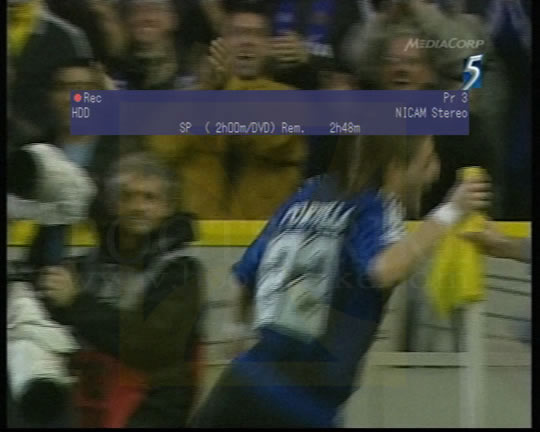 Just hit the REC button to start recording! How simple can it get?
Want to make a copy of your birthday or wedding video for someone? No problem - just use the High speed copy feature. The feature copies all the files digitally to the hard disk and burns at high speed to a DVD-R or DVD-RW. It even allows you to burn multiple copies of a single DVD.
In addition, if you are copying a DVD or recording a TV Show, you can still play movies from the DVD/hard drive with no lag at all! Talk about multi-tasking! Note that you can not play a DVD when it is being copied at high speed as a DVD does not have random read access like a HDD.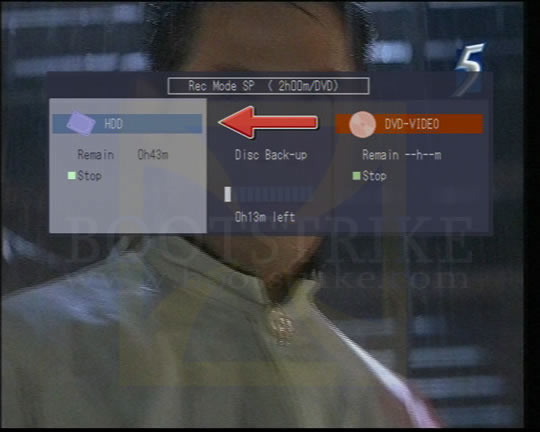 Copying(Disc Back-up) is done in the background and you can still play HDD recorded videos!
The unit comes with 2 USB ports. With it, you can connect your camera to quickly showcase your photos in the living room. Want to print them? No problem - copy the photos to the unit's HDD, connect a PictBridge compatible printer to the unit and print away! Almost like a computer desktop. What's more, you can connect an external keyboard to the unit and use it to type titles, although I can not think of a worthwhile reason to do that. And what's even more - connect a card reader and instantly turn it into a Card Reader. This way, you can read your taken photos from any memory card.
Title names can be entered for your recordings and it supports Nokia style keypad entry for easy text entry! Enter titles quickly without moving the selection to each letter and entering manually.
The remote comes with a thoughtful feature of controlling your TV's volume, channel and input source. This is useful as you only need one remote control to control volume and not hang on to two at the same time. It supports many TVs, including Toshiba, Panasonic and Sony.
The unit comes with a easy to use video editor. Using it, you can erase sections of a recorded video (for example, to remove ads). Pioneer has been considerate to provide two modes of editing so that you can burn DVDs compatible with most (if not all) DVD players.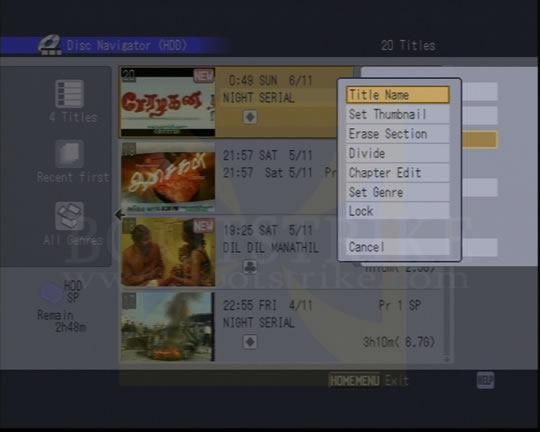 What a wealth of edit options! It even has Lock functions to prevent accidental erasure!
You can also burn recordings into DVD-R or DVD-RW. This is done in high speed and it is really fast. Using a Copy List, you can select multiple recordings and even create a static menu to showcase them. Not only that, you can set chapters in your recordings which can be added to the DVD menus too.
The Bad Things (Or, Restrictions..)
The major bad thing about this recorder: It does not support Simultaneous Multi-System playback. While the unit can play NTSC/PAL DVD and you can watch PAL/NTSC TV channels, you cannot record and play different TV systems at the same time. This means that when you are recording a PAL TV Show (the free-to-air television standard used in Singapore), you cannot play any NTSC DVD titles which most DVD movies use.
Pioneer is from Japan, where they use NTSC. Probably they were thinking that it is a minor flaw since they have not been in our shoes. I found myself unable to watch movies when recording as it is all in NTSC format. Big mistake Pioneer, Big mistake.

You basically can't play any DVD movies when recording TV Shows because the unit can't handle two different TV systems (NTSC and PAL) at once.
Next, you can not copy whole non-copyrighted DVD tracks (read: only selected tracks - useful if you want to strip out ads/trailers) at high speed (realtime is possible) to the hard drive for later viewing. First, you can only copy a title. That's all right, we are only after a movie (not the commentary or trailers). However, the videos are copied to the hard drive in real time (1X) and re-encoded to the recording quality you chose (XP, SP, LP, etc).
You cannot copy the whole VIDEO_TS/VOBs files to the HDD, Nada, Pioneer wants you to play the whole movie, re encode it (lowering the quality) and play from your hard drive. What's more, while this is done, multi-tasking is effectively disabled - you can't watch any recorded videos or do anything else. One advantage of this, though, is that the copied track can take less space depending on recording quality chosen.
OK then, fine. So I decide to copy a NTSC DVD title to the HDD using the stone age way. I play the DVD, set to play Movie and hit the One Touch Copy button. Out came another violet box: Error! DVD TV System (NTSC) not compatible with current DVD TV Tuner System (PAL)!
To fix this, I had to access Initial Setup and change my TV System to NTSC. This shot another error message saying that the TV Tuner System is not compatible with NTSC and outright refused to show the TV signal. The unit could just try to decode it even though it is a different TV System - but it doesn't. My Toshiba TV can show the PAL signal as NTSC with some colour information loss, but it still shows the video.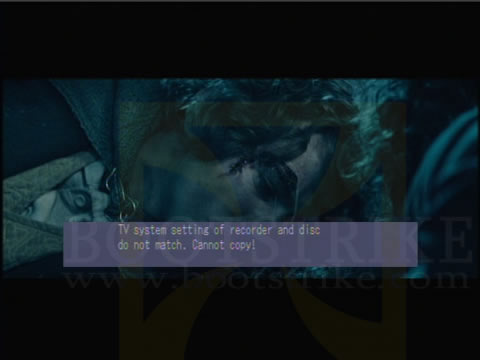 What? - I can't copy a DVD title unless I change my TV Tuner standard to NTSC?
OK, our aim was to proceed with the One Touch Copy getting past all hurdles - and it finally complied. I played the title and hit the One touch Copy button. The title restarted from the beginning and I had no control over where to stop and can not pause it. Once I tried stopping it, the whole title was not recorded in the HDD - the unit demands that you play through the entire title to record to HDD. Multi-tasking is disabled - you can't watch any recorded clips.
You cannot record sections of a title to the hard drive - but you can erase sections that you don't want after recording. So every time I need to copy NTSC DVD Title, I have to access Initial Setup to set TV Standard to NTSC - a process that was supposed to be one-time, and wait for the whole title to finish recording, up to 3hrs per DVD.
Dreaming of using this to convert old VHS tapes to DVDs? Well, dream on. I have some very old VHS tapes, which output decent quality images but have some damaged parts. So I tried to connect up my VHS player to this recorder and record from Line In. What happened was that the unit started shooting "TV System is not compatible with this recorder" errors for the damaged parts where video is still supposed to be visible with minor defects. It refused to record.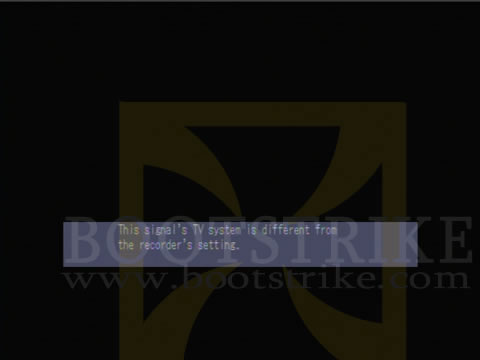 Make friends with this screen - you'll see it whenever you encounter bad quality video, or attempt to do a DVD title copy to hard drive.
Eventually, I managed to get to a clean sable part of the tape where the video started showing through. Immediately I hit the Record button and let it record for a full hour and played it back. What I got was a very bad video - frozen frames, unsynchronised sounds and video fit for the junkyard! Remember, the keyword here is old - I am sure that with tapes that are kept in good conditions, this will not be a problem. This problem also occurs if the RF (TV Tuner) signal is weak.
Even though this unit featured a "Nokia Style" Title keypad entry, it wasn't really like that. For example, you would expect "zero" to enter a space (it is actually the pause key, thanks Imitator). Nope. Likewise, you would expect "hex" to change case - Nope. All these functions have to be accessed manually by moving the selection across many buttons.
Digital Media Jukebox? Right - so I expect basic functions like copy Mp3 to HDD and rip audio CD to mp3. Like Musicmatch Jukebox. Nope, both are not there. The unit can play Mp3 files from CD but can not copy them to HDD. It can play audio CDs, and rip them, BUT they can only be ripped (or should I say 're-captured') in REALTIME (that's 1X or 60 minutes, ladies and gentlemen) in a WAV-like format to HDD. This means that each CD will take about 700mb of space when 70mb of space is enough (using mp3 encoding)! And no, you can not play DVD-MP3 with this unit.
The unit has USB support. Awesome, I thought - I could play/copy Mp3, WMA, MPG and Picture files from there. Wrong! Only the last part is true - you can only access Picture Files. You can copy them to your HDD and burn to DVD but you cannot write it back to the USB drive. There is a built in sort of "non-removable filter" to show only JPG files in the USB drive.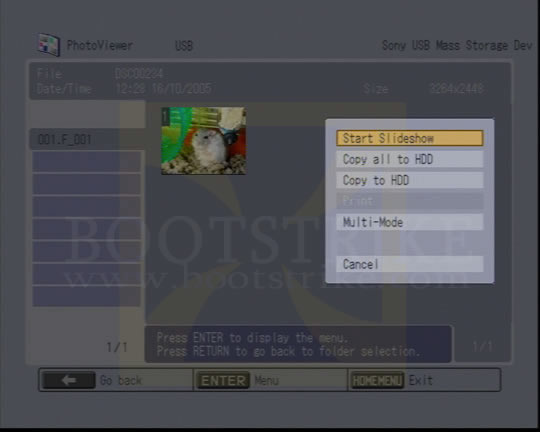 You can access photos with a slide show and it'll display them full screen. That's it. Can't access MPG, Mp3 or copy videos to the external drive.
The unit features a DVD writer (well, it's a DVD/HDD recorder). Most (if not all) DVD writers support writing CD-R and CD-RW discs. In this unit, I am sure the writer supports such a capability that can be used to write VCDs, audio cds and data CDs (e.g. to copy audio/JPGs to CD) - it is just that Pioneer did not enable the firmware with such a feature? Why - could be due to the fact that VCDs are outdated. But they could still let us copy audio CDs or burn miniDVDs.
On the DVD to DVD copying feature, which is really high speed, a feature that would have been nice is to re-encode a dual-layered DVD to a single-layered DVD, or even to VCD. But complaints aside, the backup copy is a 1:1 exact copy without any quality loss. That's good, and you can write to Dual Layer media too.
But note that all copied DVDs in the HDD are not playable until copied to a DVD-R or DVD-RW. The video is there, right there in the HDD instead of the DVD, but Pioneer refuses to play it till copied to a media.
One flaw on the DVD burning feature is that you can't set the recording speed - it is either high speed or 1X. Recording at 1X re-encodes the whole video in realtime while recording at high speed uses the max speed for the DVD-R. So imagine using a 16x media on this writer - it will shoot error messages in the middle of 16x speed burning unless the unit is placed on a very stable surface (have not tried this yet).
Wait a minute - Lets zoom into that phrase "Recording at 1X re-encodes the whole video in realtime...". Imagine having a 6 hour video recorded at SP quality. SP is 2 hours per DVD. To copy this video to one DVD, we have to recompress it. That's all right, DVDs don't have unlimited space.
The kicker? The unit has to play the whole 6 hours to re-encode the video to record the video to one hour to fit in the DVD. Why has it got to do it in realtime instead of just re-encoding it digitally? What's more, while this is in process, you can not do anything else with the unit, including watching recorded videos.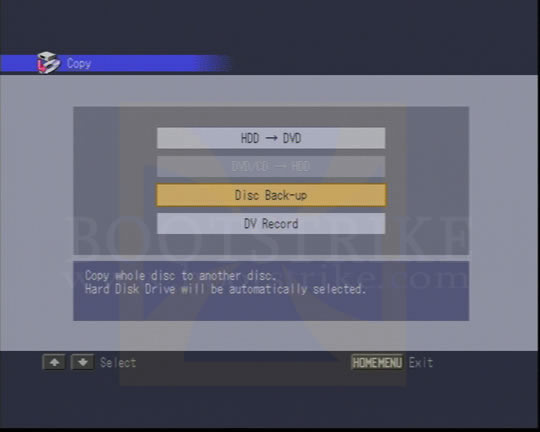 The Copy options screens. Note that you can also record from firewire video sources.
Have a widescreen movie that you would like to view in full screen using your 4:3 TV? Yes - you guessed it right - no such feature in this unit. There is a useless "Pan & Scan" option (till now, I do not know what it does) in the Initial Setup, but even with it enabled, the video is still the same. The Pioneer technician officially confirmed with me that I can not zoom in to fill a bigger area of the screen when watching widescreen movies.
Stability wise, the unit is very good. However, I have discovered a bug with my unit (don't know if the others have it). If I override a recording timer by doing a manual recording, stop the recording and hit the record button again (as I wanted two different files), it will shoot an error message "Cannot record to Hard Drive". I attempted to try other things and ended up with the unit frozen. It refused to obey any remote controller commands or onboard buttons. I had to manual power off the unit and switch it on, after which it says "Operation aborted due to Power Failure".
Pioneer uses the same model number for different countries but with different space allocations. This official website in the UK uses DVR-530H-S as the model number, but it features a 160gb hard drive (we have 80gb here). What's more, the upgraded version, the DVR-630H-S, sports not 180, not 200, not 220 - but a whopping 250GB of hard drive space (minus USB support) whereas in Singapore's version of DVR-630H-S, it's only 160gb (with USB support).
The Bottom Line
In summary, be prepared to face with a lot of restrictions on the unit. DVR-530H, DVR-520H, DVR-420H and DVR-633H-S models should have the same defects too, as the technicians I spoke to said that no units in Pioneer have lesser or none defects. But if the defects (or restrictions) are of low priority to you, then it is a very good unit to get - taking into account the stability and user friendliness.
Units like the Lite-On LVW-5045, LG units and other models may be better, or have some bugs, but I am sure that there is a better unit out there that has lesser restrictions. The US sibling, DVR-433H-S, DVR-533H-S and DVR-633H-S, has even won cNet's Editor's Pick award, however, I believe the same flaws exist in that recorder too. Still, US uses NTSC so they will face lesser problems than we PAL users do.
User comments on the units can be found on US Amazon's excellent reviews: DVR-533H-S (80gb) and DVR-633H-S (160gb).
Official Site
For more information on the DVR-530H-S, visit the official website. For those looking for the manual or user guide (recommended if you want deeper information), you can download it here (note that this is Singapore's version, with USB support).
New Model Update!
Pioneer Singapore has released new models! Pioneer DVD HDD recorders DVR-340H-S (80GB), DVR-541H-S (160GB), DVR-640H-S (250GB), DVR-645H-S (250GB, HDMI) and DVR-745H-S (400GB, HDMI).
From the specs, the only differences I notice (when comparing the 80GB DVR-530H-S and its newer sibling DVR-340H-S) are as follows
DivX Support (no profile stated)
Photo + Music Mix (JPEG Slideshow with Music)
A Digital Jukebox in your Living Room - It is also save MP3 and WMA files to the jukebox and play them. (Hmm, I wonder whether that means it allows copying MP3 files from CD/DVD to HDD?)
Much more space
Got one of the following above players? Let us know your feedback!
Summary and Rating
7/10

Pros:

Excellent Timer Recording System
Easy to use interface
Can make multiple copies of non-copyrighted DVD
Can connect external card reader and external drives to load pictures
Can connect external printer
Partial Nokia-like style title name entry
Remote allows you to control TV volume, power, channel & input source
Built in video cutter to remove ads or divide a clip into two different clips
Can play the recording programme, a recorded video or DVD disc while recording a programme as long as the two TV standard match

Cons (See Note below):

Can not record PAL show and play NTSC DVD simultaneously.
Can not rip audio CD to Mp3
Can not rip audio CD at high speed
Can not play DVD-MP3
No File Explorer feature to browse files in DVD / Thumb Drive
Cannot copy DVDs to HDD @ high speed (realtime is possible) for later viewing
Can not write CD-R/CD-RW when it technically can
Can not see non-JPG files in attached USB device
No zoom feature
Can not join together 2 videos recorded in the same mode
Can not record damaged VHS tapes/RF Signals properly (out-of-sync sounds, frozen frames)
No shuffle mode for MP3 CDs
Can not play DVD-MP3
USB Mass Storage devices are read-only.
Can not choose DVD burning speed when it technically can
Re-encoding recordings are done in realtime

NOTE: I could be very fussy above - some features may not available in all DVD Recorders - so don't be discouraged by the large number of cons.
Screen Captures
Click here to view Pictures of the DVR-530H-S / DVR-630H-S in action.
Specifications (from official website - 1st October 2005)
DVD-Video/DVD-R/DVD-R DL/DVD-RW/DVD-RAM/DVD+R/DVD+RW/CD/VCD/Super VCD/CD-R/CD-RW
Yes
Yes
Yes
HDD/DVD (VR mode)
Yes
HDD/DVD (VR mode)
Yes
DVD-R,DVD-RW (VR/Video mode)
DVD-R DL(Video mode)
80GB (160GB for DVR-630H-S)
PAL/NTSC
XP (FINE): +/- 1 hours SP: +/- 2 hours LP: +/- 4 hours EP: +/- 6 hours SLP: +/- 8 hours SEP: +/- 10 hours MN: +/- 1-13 hours (33steps)
XP (FINE): +/- 1.8 hours SP: +/- 3.5 hours LP: +/- 7.1 hours EP: +/- 10.7 hours SLP: +/- 14.3 hours SEP: +/- 17.9 hours MN: +/- 1.8-24 hours (33 steps)
80GB XP: +/- 11 hours XP (FINE): +/- 17 hours SP: +/- 34 hours LP: +/- 68 hours EP: +/- 102 hours SLP: +/- 136 hours SEP: +/- 170 hours MN: +/- 11-227 hours (34 steps)
Yes
Yes
Yes
Yes
32/month
Yes (LPCM)
On DVD:
For both VR & Video mode:
Input disc name/title name, Easy title input(like Mobile Phone), Erase title, Undo
For VR mode only:
Chapter edit, Edit play list, Erase section
On HDD:
PAL/NTSC
Yes
10 bit/54 MHz
Yes
Yes
Yes
Yes (HDD to DVD, DVD to HDD)
Yes (HDD to DVD, DVD to HDD)
Yes (HDD to DVD, DVD to HDD)
Yes (HDD to DVD)
Yes (only for finalized DVD-R/RW discs recorded in video mode)
Yes
Yes
Yes
Yes
Yes
Yes
Yes
English/Italian/Spanish/Portuguese/Chinese
PAL-B/G, I, D/K SECAM, B/G, D/K, NTSC-M/N
AV(Audio/Video) :3 (front: 1)
S-Video :3 (front: 1)
AV(Audio/Video) :2
S-Video :2
Component Video :1
Digital Audio :Optical
IN
2 (Front1/Rear1)
NOTE: Some countries countries' models don't have USB support.

SR Control Input
420 x 59 x 273 mm
4.0kg
AC 110-127 V/220-240 V, 50/60 Hz
47Watt
0.67 Watt (Display off)
Yes (with TV preset)
Questions, Errors and Queries?
Please post any queries you have in the Comments below.
This document is Copyright(©) 2001-2008 by G.Ganesh. Visit Bootstrike.Com (http://bootstrike.com).
Last Updated 1st Dec 2006.