Best Free Online Shooting Game
Version 0.55
| About | Screen Shots | Download | More Screen Shots |
The free FPS game we're talking about is none other than Unreal Tournament 2004 Demo.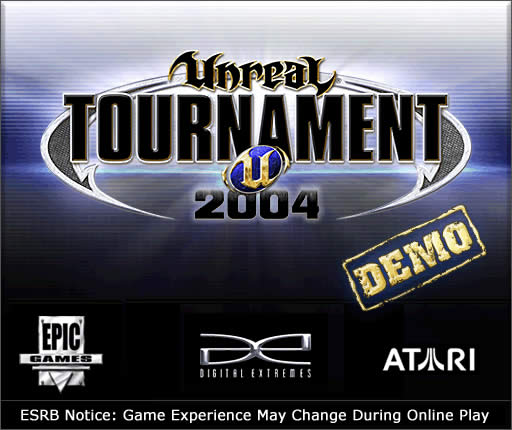 What, a *DEMO*? Are you kidding?
Don't get dissuaded by that word. It is a demo, however no game out there has so many features for a demo.

Seven Maps - AS-Convoy, ONS-Torlan, ONS-Primeval, DM-Rankin, CTF-BridgeOfFate, CTF-Face Classic. BR-Colossus
Seven game modes - Assault, Onslaught, Deathmatch, Capture The Flag, Team Deathmatch, Bombing Run, Instagib CTF
Free stats tracking!
Unlimited play on demo servers!
No time limits! No consistent nag screens - except one when you exit the game.

And the rest of the standard features come with it FREE!

Up to 32 players on one server, with additional slots for spectators
Full Arsenal of weapons (click to view full descriptions)

Note - only certain weapons are available in each game type. Eg. Translocator can't be found in Onslaught games.
Many Vehicles including an aircraft!

Note - only certain vehicles are available in the demo due to the limited maps. Not Shown: Goliath (below)
Join any Internet server (that is running the demo version) or create your own server!

Voice Chat!
Track your statistics online and check how you rank globally!
Screen Shots

Hovering around in a manta


The battle for the center node


Training myself with 32 computer players, whose skills can you configure


Check out the grass! Hehehe


The game's most deadliest weapon - Redeemer. Only one shot per weapon


Hell Bender - a jeep like vehicle that can carry 3 players at ONE time - a driver and two turret controllers

Other Vehicles and Structures


A newly spawned manta


Goliath - a tank like vehicle


Power Node


Raptor - the only flying vehicle in the game for the demo


Hell Bender


Turret - great for base and node defense


Power Core. When your enemy team's core is destroyed, you win.


Scorpion - Fastest vehicle on land.
System Requirements
Basically, if your system is less than 3 years old, you should be able to play this game!

Operating System: Windows® 98/Me/2000/XP

Processor: Pentium® III or AMD Athlon 1.0 GHz processor or faster (1.5 GHz or faster processor recommended)

Memory: 128 MB RAM minimum (256 MB recommended)

Hard Disk Space: 3.5 GB free

Video: Any Windows-compatible video card(NVIDIA GeForce 2 or ATI Radeon with at least 64 megs of video memory recommended)

Sound: Windows®-compatible sound card. NVIDIA® nForce(tm) or other motherboards/soundcards containing the Dolby® Digital Interactive Content Encoder required for Dolby Digital audio

DirectX®: DirectX® version 8.1(included)or higher

Multiplayer: Internet (TCP/IP) and LAN (TCP/IP)play supported | 33.6K baud modem or broadband Internet connection recommended
Download for FREE
It's FREE. It even comes with the original game's PDF manual inside.

Windows users - Download from Bootstrike or GameFront (283 MB) .

Linux user - Download from GameFront (276 MB) .

Apple Macintosh - Download from GameFront. (268 MB) .

Or if the above links give problems, download from the official website.

You don't need to, but to enjoy the full arensal of vehicles, you can download Unreal 2004 FULL version for as low as $9.99 from GOG. Or buy at Amazon.com from $12.95 or as low as £2.49 from Amazon UK.

The full version offers many more maps, vehicles, mutators (things you can add to modify the game behavior including new vehicles and effects), various new game types and most importantly, more multiplayer servers! And yes, you can still play on existing demo servers.
Join Our Asia Servers
Once you have installed the game, join our servers for the DEMO version and FULL version (updated 10 Aug 2014). Click the appropiate link to launch the game automatically.
Official Website
You can visit the official website here.
(UPDATE Dec 2008) Unreal III (aka Unreal 3 Tournament) - NOT RECOMMENDED
Unreal 3 sucks. If you don't believe me, google for "unreal 3 sucks". And then try googling for "unreal 2004 sucks". See what I am talking about?

I tried the demo and even bought the full version. Sad to say, the game is missing many useful UI elements (e.g. font size adjustment and Tab key to display score board) and gameplay (e.g. many weapons and vehicles removed) from Unreal 2004. No doubt the graphics are good, but the overall game still sucks.
Related: If you are into racing games, check out the best free racing game: GRID.
Last Updated 8 Feb 2012.
Errors? Omissions? Need Help? Know something? Post your queries in the comments below.
This document is Copyright(©) 2001-2009 by G.Ganesh. Visit Bootstrike.Com (http://bootstrike.com).