| Introduction | Conversion Process | Rates |
Introduction

S-VHS (Super VHS) is an improved version of the VHS standard for consumer video cassette recorders. It was introduced by JVC in Japan in April 1987 with the HR-S7000 VCR and certain overseas markets soon afterwards. S-VHS-C is a compact version, but it is essentially the same tape.
Like VHS, the S-VHS format uses a "color under" modulation scheme. S-VHS improves luminance resolution by boosting the luminance carrier from 3 MHz to 5.4 MHz. This produces a 60% improvement in (luminance) picture detail, or a horizontal resolution of 420 lines per picture height versus VHS's 240 lines.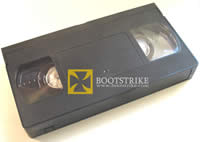 The often quoted horizontal resolution of "over 400" means S-VHS captures greater picture detail than even analog cable broadcast TV, which is limited to about 330 lines. In practice, when time shifting TV programs on S-VHS equipment, the improvement over VHS is quite noticeable.
Yet, the trained eye can easily spot the difference between live broadcast TV and a S-VHS recording of it. This is explained by S-VHS's failure to improve other key aspects of the video signal, especially the chroma signal. In VHS, the chroma carrier is both severely bandlimited and rather noisy, a limitation that S-VHS does not address. To be fair, poor color resolution was a deficiency shared by S-VHS's contemporaries (Hi8, ED-Beta.), all of which were limited to 0.4 megahertz or 30 lines resolution. In terms of audio recording, S-VHS retains VHS's conventional linear (baseband) and Hi-Fi (AFM) soundtracks.
S-VHS. (2009, November 25). In Wikipedia, The Free Encyclopedia. Retrieved 06:08, December 8, 2009, from http://en.wikipedia.org/w/index.php?title=S-VHS&oldid=327928854
Conversion Process
We ensure the best quality in every single process of the conversion. All conversions are done on professional high end players with real time full frame time base correction (TBC) and digital noise reduction (DNR). Video and audio signals are transmitted on thick cables with gold plated connectors. No power source is placed near the players. All these are to reduce the interferences into the electronic signals so as to capture the signal in its original form as best as possible.
Encoding of video to formats such as MPEG is based on the AVI captured file. The encoding is done using production quality conversion settings, which requires much more CPU processing power but gives a slightly better end result. We utilize quad core processor workstations to process your videos.
Adjustment of saturation and hue is done on a tape by tape basis, real time, via a processing amplifier (ProcAmp). With all these, we always ensure audio and video synchronization is maintained throughout the whole process.
If we notice any major faults in the video, we will ask you before proceeding. At this point, you will not be charged a single cent if you decide not to continue with the conversion. Common major faults we've encountered are
Badly damaged taped (we do not convert these)
Snapping / tearing of tape
TV recordings in the tape
Please note that we do not convert NTSC S-VHS tapes as we do not have a player compatible with the format.
Rates
For conversion to VCD
$15
1
$3
$18
$30
2
$6
$36
$45
3
$9
$54
For conversion to DVD (includes 5 minute chapter marks)
$20
1
$8
$28
$40
1
$8
$48
$60
2
$16
$76
For conversion to other digital formats such as AVI, MPEG1, MPEG2, WMV and FLV
AVI
$20
MPEG1
$20
MPEG2
$20
FLV
$40
WMV
$20
You can also try our calculator. Or contact us for a quote.