| Introduction | Common Lengths | Conversion Process | Rates |
Introduction

Digital8 (or D8) is a consumer digital videotape format developed by Sony, and introduced in 1999. The Digital8 format is a combination of the older Hi8 tape transport with the DV codec.
Digital8 equipment uses the same videocassettes as analog Hi8 equipment, but differs in that the audio/video signal is encoded digitally using the industry-standard DV codec. Since Digital8 uses the DV codec, it has identical audio and video specifications.
To facilitate digital recording on existing Hi8 videocassettes the video head drum spins 2.5x faster. For both NTSC and PAL Digital8 equipment, a standard-length 120-minute NTSC/90-minute PAL Hi8 cassette will store 60 minutes of Digital8 video (Standard Play) or 90 minutes (Long Play). LP is model specific, such as the TRV-30, TRV-40, and others.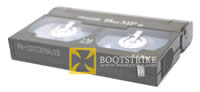 Digital8 recordings can be made on standard-grade Video8 cassettes, but this practice is discouraged in the Sony user manuals. Hi8 metal-particle cassettes are the recommended type for Digital8 recording, and most tapes currently sold are marked for both Hi8 and Digital8 usage.
Digital8. (2009, November 29). In Wikipedia, The Free Encyclopedia. Retrieved 05:08, December 8, 2009, from http://en.wikipedia.org/w/index.php?title=Digital8&oldid=328605468
Common Tape Lengths
1 hour SP mode
1.5 hour LP mode
Conversion Process
We ensure the best quality in every single process of the conversion. All conversions are done on professional high end players with 1:1 digital transfer. Video and audio signals are transmitted on thick cables with gold plated connectors. No power source is placed near the players. All these are to reduce the interferences into the electronic signals so as to capture the signal in its original form as best as possible.
Unlike analog conversions, no video quality is lost during the conversion to AVI as Digital8 records the video and audio data digitally.
Encoding of video to formats such as MPEG is based on the AVI captured file. The encoding is done using production quality conversion settings, which requires much more CPU processing power but gives a slightly better end result. We utilize quad core processor workstations to process your videos.
With all these, we always ensure audio and video synchronization is maintained throughout the whole process.
If we notice any major faults in the video, we will ask you before proceeding. At this point, you will not be charged a single cent if you decide not to continue with the conversion. Common major faults we've encountered are
Badly damaged taped (we do not convert these)
Snapping / tearing of tape
Rates
For conversion to VCD
$15
1
$3
$18
$30
2
$6
$36
$45
3
$9
$54
For conversion to DVD (includes 5 minute chapter marks)
$20
1
$8
$28
$40
1
$8
$48
$60
2
$16
$76
For conversion to other digital formats such as AVI, MPEG1, MPEG2, WMV and FLV
AVI
$20
MPEG1
$20
MPEG2
$20
FLV
$40
WMV
$20
You can also try our calculator. Or contact us for a quote.